Adjustable "flowering agathe" necklace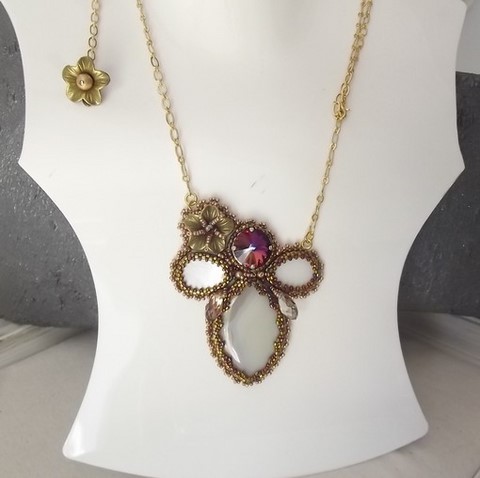 Necklace "Agate Fleurie" Swarovski, semi-precious stones.
Materials used : semi-precious stones, Swarovski crystal and gold-plated.
This necklace is worked in Amerindian embroidery.
In the center a beautiful cabochon rivoli of 14 mm in Swarovski Volcano. At the bottom of the crystal cabochon is an agate lace embroidered with miyukis "metallic purple gold iris".
On each side of the natural nacres "cream" are set with the same miyukis as the agate. Above left (on the image) a bronze flower with a round Swarovski topaz AB pearl in the center.
The round round bead on the right is a mother of pearl of 4 mm Swarovski gold and the half metallic crystal drops, half bronze are faceted china crystal.
The chain is in gold plated (about 1 micron) as well as its clasp which allows to change the length of this necklace. On the end of the chain is the same flower as on the base embroidery with a Swarovski mother of pearl of 6mm gold.
When you adjust the string to create the fancy one must put the tassel falling on the front.
The lining is in ultra suede camel.

Neck : adjustable.
Width : approx. 5,5 - 6 cm for the center piece.
Length : about 7 cm to the longest.
Weight: 28 grs (without packaging).

Artisanal handmade work in Native American embroidery.