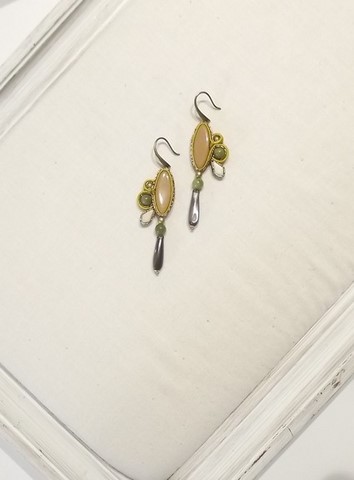 Earrings "MAYA" preciosa, soutache and swarovski.
Materials used : preciosa, crystal, soutache, semi precious.

These loops are worked in trimmings.
The central embroidery is made with a flat pearl in light brown glass. On the right or the left the arabesques are made with a gold precious pearl and a beautiful Thai jade pearl. On the bottom a Kite bead to form a petal.
The tassel is a suite of preciosa pearls, Thai jade, a bronze cap and a brown mother-of-pearl droplet with a little gold-plated flower cap on the tip.
The set is worked with 2 colors of soutache, gold and mustard.
The ear hook is antique gold plated.
The lining is light brown leather.

Width: about 2 cm.
Length: 6 cm without loop.
Weight: 8.7 grams (without packaging).

The roundness is towards the outside of the ear.
Handmade work handmade in trimmings.