City flower mint necklace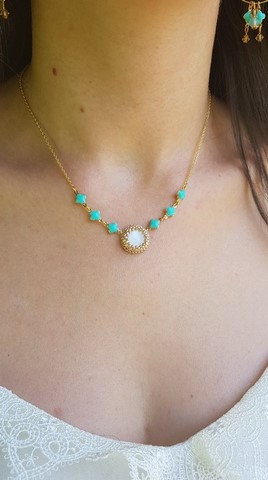 Necklace "City flower" Swarovski, natural mother-of-pearl.
Materials used: natural mother of pearl, Swarovski crystal.

This necklace is worked in Amerindian embroidery.

In the center a round mother-of-pearl set in champagne galvanized miyuki.
The choker starts with epoxy flower chain mint and gold to finish with the golden steel chain.
The lining is in ultra beige suede.
The clasp is gold plated

Neckband: Classic (38-40 cm).
Length of the central embroidery: 18 mm in diameter.
Weight: 6.70 grs (without packaging).

Handmade craftsmanship.