"croco lagon" necklace.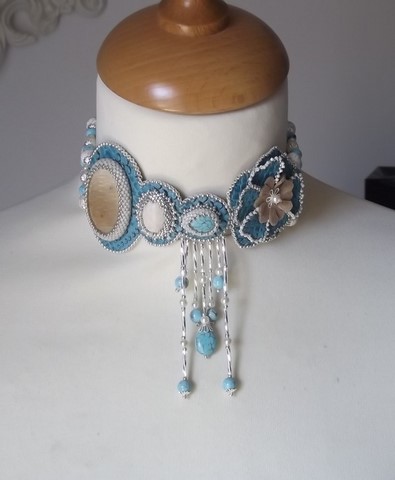 Choker "Croco lagon" Swarovski, semi-precious stones.
Materials used : semi-precious stones, Swarovski crystal.

This necklace is worked in american embroidery on imitation leather imitation crocodile.
On the left side of the photo, a gradation of cabochon ranging from fossilized coral to riverstone to end with a drop in turquoise blue magnesite.
On the other side a flower worked with imitation crocodile and camel suede as well as in its center a metal flower and its heart of mother-of-pearl Swarovski.
On each side to finish the neck is two rows of beads blending, the magnesite blue to the natural magnesite with interlacing Swarovski nacres of different dimensions.
The back at the clasp is worked with two small cabochons in riverstone on simili croco.
The adjustable chain and the clasp are in silver 925 thousandths.
The small caps adorning the beads are silver plated.
The lining is suede color camel.
Possibility of adding rings if necessary.

Neck: 36 cm without the chain.
Width: approx. 5.5 mm for the central part.
Weight: 49 grs (without packaging).
Handmade craftsmanship.