El Mar necklace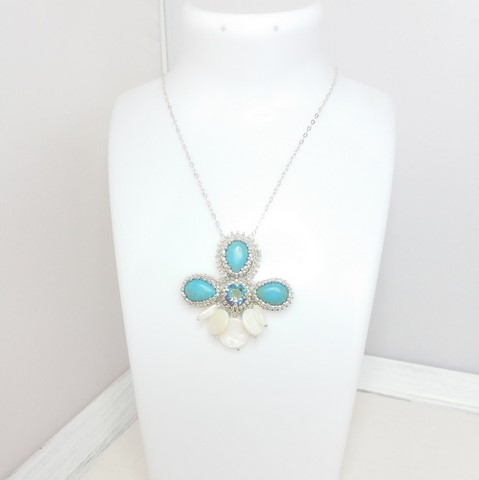 Necklace "El Mar" Swarovski, silver, semi-precious stone.
Materials used : semi-precious stone, 925 silver, Swarovski crystal.
Handcrafted necklace handmade by me with Native American embroidery technique.
In the center a Swarovski crystal of 8mm color "Erinite shimmer". The half-flower consists of 3 magnesites from Nevada. On the underside, a set of natural cream-colored mother-of-pearl as well as two small pearls in Swarovski pacific opal crystal.
The choker is in sterling silver The lining is in gray suede.
Length : approx. 37 cm with additional adjustment chain.
Width : approx. 4 cm. Weight: 11 grs.
Handcrafted work in pearl embroidery.