Lace necklace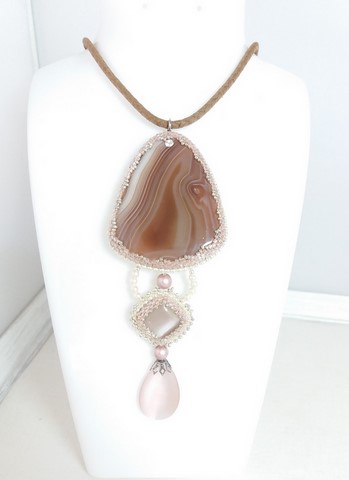 Swarovski "Lace" necklace, Agate lace.
Materials used: agate, Swarovski crystal, silver.
This necklace is worked in Native American embroidery. Necklace made of a large brown and white lace agate. Swarovski crystal and mother-of-pearl. Small square cabochon and drop in very pale pink cat's eye (polished glass).
The set is embroidered with beads in shades of pale pink and galvanized silver. The choker is a brown braided cord and the clasp and the adjustment chain are in sterling silver.
The lining is in ultra beige suede.
Neck circumference : Classic (38-40 cm).
Length of the central embroidery : approximately 12.5cm.
Weight : 37 grs (without packaging).
Handcrafted and needlework. For more details contact me on my mailbox