Necklace El Contrario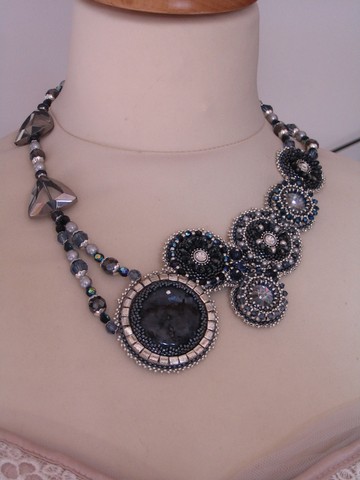 High fashion style necklace "El contrario" embroidered on the needle crystal Swarovski, vintage glass pearl and semi-precious.

Materials used : Swarovski crystal, gemstone.
Fully embroidered collar needle and composed of prints with the center a cabochon Swarovski, semi-precious stone named central focal blue labradorite diameter of 30mm. You will also find 2 large cabochons rivili Swarovski blue color shade entirely set to the needle and another decorated with Swarovski crystal denim blue or metallic blue. The choker is made of Swarovski crystal (Round Pearl) denim blue color and bohemian crystal jet AB. The caps are silver plated. The clasp and adjustable chain and primers are 925m silver. The lining is ultra suede.


Weight : 80 grams.
Choker but possibility of adding the length through the setting of chain 4.5 cm.