Necklace fresh evening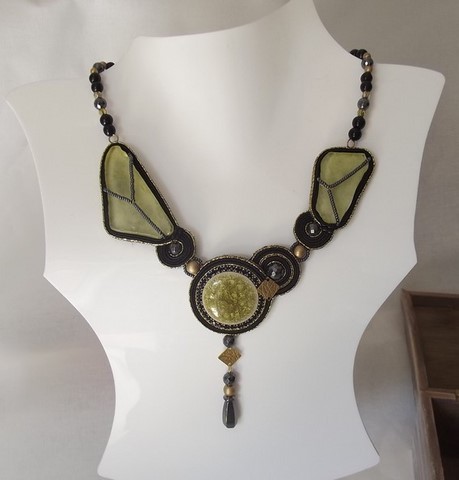 Necklace "Fresh evening",semi-precious stone, crystal and ceramics.

Materials used : semi-precious stone, Bohemian crystal, ceramic cracked.

This necklace is working with the trimming technique.
In the center a beautiful cabochon in shades of yellow ceramic cracked. It is surrounded by small black crystals and worked with black and gold braid.
The pendant is made with a series of faceted hematite beads, a small plaque engraved gold color and ends with a drop faceted hematite too.
On either side of the polished glass pieces are worked with the same braid for central cabochon.
The Pearl located on the underside is a faceted hematite.
The three pieces are connected by Preciosa beads (Czech) antique gold color that is also found on the pendant.
The choker is made with a series of pearl onyx, hematite faceted Bohemian crystal and gold in diameter 4, 6 and 8 mm.
The clasp is a gold-plated hook.
The lining is in black leather.

Possibility of adding rings if necessary.

Neck : Classic (38-40 cm).
Widt h: 5cm for the centerpiece.
Weight : 42 grams (without packaging).

Handcrafted handmade trimmings.