Run of Stars or necklace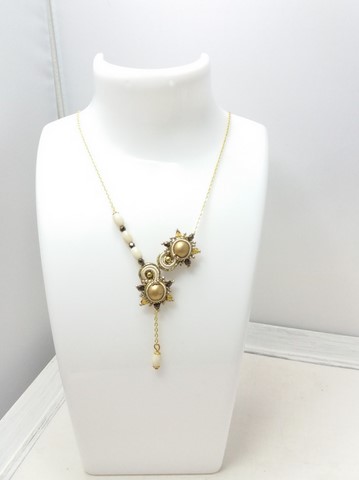 Czech preciosa "Run of Stars" necklace, soutache.
Materials used: Préciosa, bohemian crystal and soutache.

This necklace is worked in passementerie.

As for the buckles of the same range, the round matt gold pearl of the Preciosa brand as well as the one above in gold plated are set with beige and gold soutache. On the rounding, pretty bohemian crystal beads finish the embroidery. The tassel is in white jade with small gold-plated flower caps on the top and bottom.
The choker is made in contradiction with the golden steel chain on one side and on the other a succession of metallic "brown" bohemian crystal and white jade pearls. The clasp is gold plated.
The lining is in light brown leather.
Pendant size : approximately 2 cm by approximately 4 cm long.
Standard neck circumference : approx.40 cm.
Weight : 6 grs (without packaging).


Handcrafted work in trimmings.