Summer Necklace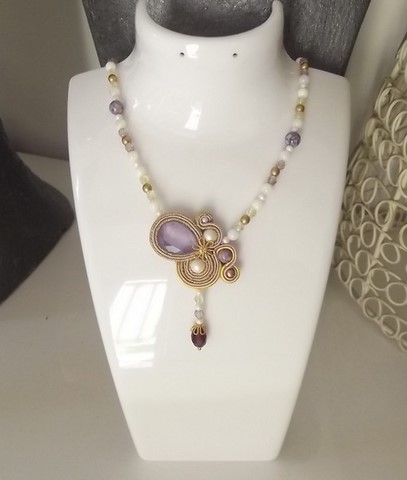 Necklace "Lilac Summer" soutache and Swarovski.
Materials used : Swarovski, preciosa, soutache and natural mother-of-pearl.

This necklace is worked in trimmings.
The central embroidery is made with a cabochon Swarovski Crystal pear-shaped crystal color Lilac 18x13 cm.
The arabesques are made with Swarovski Pearlescent White pearls and a riverstone pearl in light purple. Between the cabochon and the arabesques is a gold-plated flower.
The tassel is made with a daffodil bohemian pearl pendant, pearlescent white from Swarovski, then a gold-plated flower cap and a drop of amethyst bohemian crystal to finish with a tiny gold-plated cap.
The set is worked with 3 colors of soutache, gold, light yellow and light lilac pink.
The rest of the choker is made of precious gold pearl, bohemian daffodil crystal and amethyst light, 3mm pearlescent white, pearl riverstone in light purple and natural round pearl.
The round clasp and its adjustment chain are in gold filled gold.
The lining is light pink leather.

Neckband : Classic (38-40 cm).
Width of the central motif : about 3 cm.
Length : approx 6 cm for the center piece.
Weight : 16 grs (without packaging).

Handmade work handmade in trimmings.