Cuff "Blue Tiger"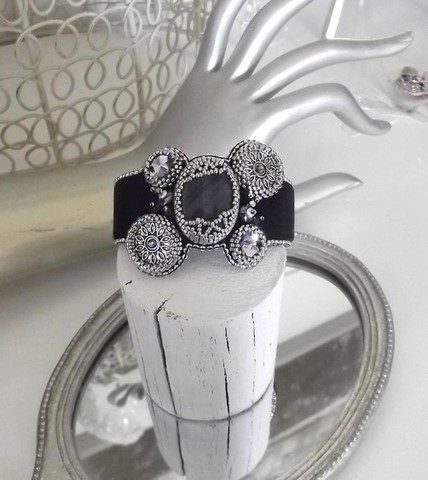 Bracelet Manchette « Tiger blue » Swarovski, pierre semi-précieuse.
Cuff Bracelet 'Tiger blue "Swarovski, semiprecious stone.

Materials used : semi-precious stones, Swarovski, metal prints.

Handmade bracelet handmade by me.
Native American embroidery work on brass support. In a beautiful blue cabochon tiger's eye center entirely set with miyuki beads plated palladium. On each side there is both a Swarovski cabochon pink color and a print with a small Swarovski blue denim too. Each piece is embroidered like the central cabochon with miyuki beads plated palladium. There is between these cabochons Swarovski hematite crystals shuffleboard additions starting from blue to silver crystal.
The unit is working on a black ultra-suede and lined in navy blue.
The two small caps that are on the hematite are silver plated.

Length : wrist circumference approx 15,5 cm but since adjustable cuff.
Width : 4 cm wider embroidery.
Weight : 42 grams without packaging.