Tilapia Cuff Bracelet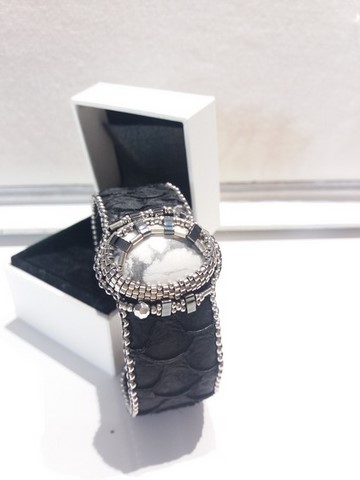 Black "TILAPIA" bracelet, Leather, Swarovski, semi-precious.
Materials used : Swarovski crystal, semi-precious and bohemian crystal.

Handmade cuff handmade by me.
In the center a semi precious white cabochon howlite white, pearl Half Tila jet, pearl round Swarovski crystal color "comet silver light".
The set is embroidered on a Tilapia leather (tanned fish skin) and placed on an adjustable brass cuff support.
Embroidery beads in palladium plated.
Lining in ultra-suede black.

Length: 16 cm (adjustable).
Width: about 3.2 cm at the widest point of the central embroidery.
Weight: 36 grs without packaging.

Handmade craftsmanship.