"Totem Tortue" cuff bracelet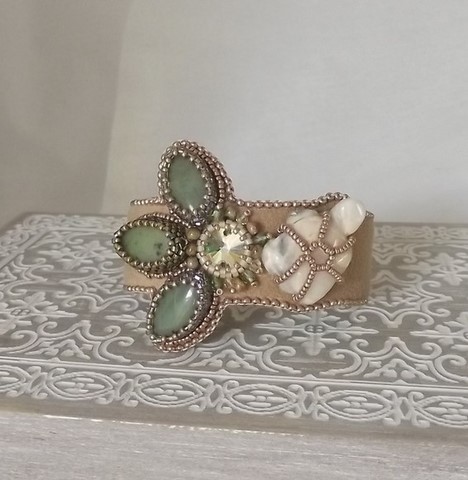 Swarovski "TOTEM TORTUE" cuff bracelet, semi-precious stone.
Materials used : Swarovski and semi-precious.
Handmade bracelet made by me. Native American embroidery work done with a Swarovski "Luminous green" cabochon set with pearlised glass beads and surrounded by "golden shadow" Swarovski crystals and bohemian olivine crystal as well as small marbled miyuki drops.
On the left, the petals are Canadian jade cabochons worked with metallic glass beads in shades of green and gold.
On the right a pretty little turtle in marbled cream agate. The whole is worked on a brass support of 16 cm adjustable and with an ultra suede "camel" for the top and for the inner lining of the color "pistachio"

Length : 16 cm (style rigid but adjustable cuff).
Width : about 5 cm at the widest point of the central embroidery.
Weight : 40 grs without packaging.

Handmade craftsmanship.