CLEO Necklace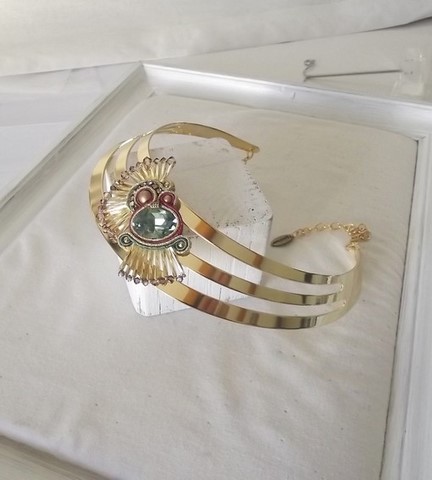 Necklace "CLEO" Swarovki, soutache.

Materials used : Swarovski crystal, soutache.

This necklace is worked in trimmings.
The central embroidery is made with an oval Swarovski crystal cabochon in 18x13 color Erinite. On the top, the arabesques are made with precious gold pearls in the matte gold and on the bottom with small round but flat gold-plated beads.
Above the largest pearl on the left of the screen small bohemian crystals in shades of cream, smoke topaz and light pink.
The fantasy at the top and at the bottom is made with twisted gold buggles and 3mm Swarovski crystal tops in the shades of smoke topaz and lilac shadow crystal.
The set is worked with 3 colors of soutache, gold, sage green and raspberry.
The set is sewn and glued on a rigid brass neck gilded with its adjustment chain.
The lining is pink old leather.

Neckband: Classic (38-40 cm).
Width: 6.5 cm.
Length: 5.5 cm for the center piece.
Weight: 60 grs (without packaging).

Handmade work handmade in trimmings.