"Moderne princesse GM" Necklace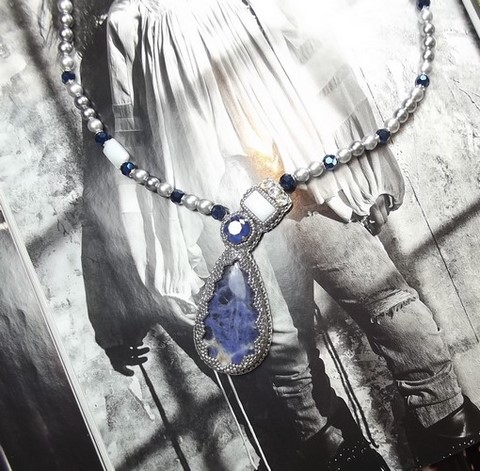 Necklace "Modern Princess" Swarovski, natural mother-of-pearl, silver.
Materials used: natural mother-of-pearl, Swarovski crystal, silver 925 thousandths.

This necklace is worked in Native American embroidery.
It consists of a central embroidery made with a drop cabochon Sodalite 4.5cm by 2.5 cm. On the top a cabochon square Royal Blue "from Swarovski. At the top right of the image, a slightly bluish faceted rectangle mother-of-pearl and her three crystal-colored kittens.
The necklace is made with pearls from the "Préciosa" range (Czech Republic) in metallic blue and gray with on one side a mother-of-pearl faceted as for basic embroidery.
The set is embroidered with palladium-plated beads.
The chain and its clasp and adjustment chain (rear) are silver 925 thousandths.
The lining is in ultra suede light gray.

Neckband: classic (38-40 cm) + a chain of adjustment.
Length of the central embroidery: 7.5cm by 3 wide.
Weight: 40 grs (without packaging).

Handmade craftsmanship.