Collier Daphné B necklace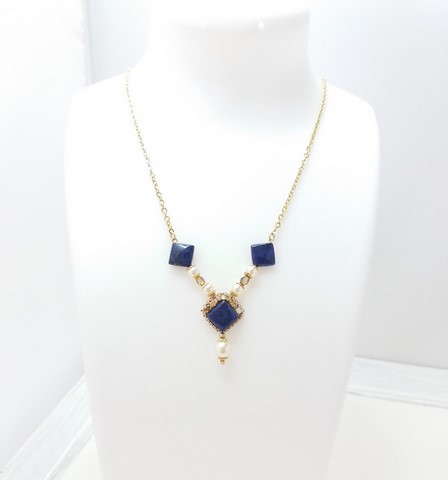 Bohemian crystal "Daphne B" necklace, semi-precious stone.
Materials used: sodalite, bohemian crystal, steel and gold plated.
This necklace is worked in Native American embroidery. Three pretty Sodalites make up this necklace.The central is embroidered with Bohemian crystals on the top.
The set is made with bohemian crystals and mother-of-pearl pearls from the Préciosa brand.
The chain is in gold-plated stainless steel and the clasp as well as the small flower caps that surround the mother-of-pearl are in gold-plated.
The lining is in ultra beige suede.
Neck circumference : about 33 cm + 4 rings to adjust.
Length of central embroidery : approx. 2.5 cm.
Weight : 6 grs (without packaging).
Handcrafted craftsmanship.