DOLMEN Necklace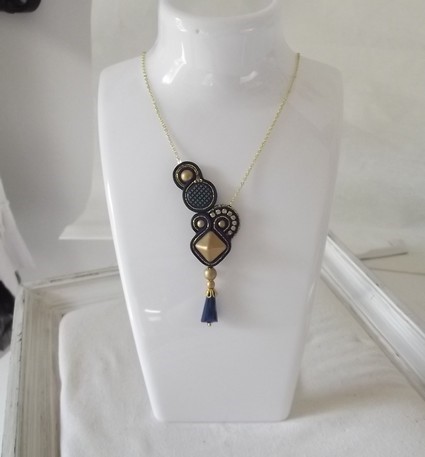 Necklace "DOLMEN" Czech preciosa, soutache.
Materials used : Preciosa, crystal and soutache.

This necklace is worked in trimmings.
The central embroidery is made with a "beadstud" pearl matte gold 12x12. On the top right a bohemian crystal chain forms the rounded and left of the photo a square puck of blue and gold color as well as its matte gold bead of the preciosa range finish the set.
The tassel is made with a matte gold pearl suite from the Préciosa range and a blue metallic crystal drop enhanced by its gold-plated flower cap.
The set is worked with 2 colors of soutache, gold and montana blue.
The chain is in gold as well as its clasp and its chain of adjustment.
The lining is gold and black glitter leather.

Neckband : Classic (38-40 cm).
Width : about 3 cm.
Length : about 8 cm for the center piece.
Weight : 27 grs (without packaging).

Handmade work handmade in trimmings.