Riviera necklace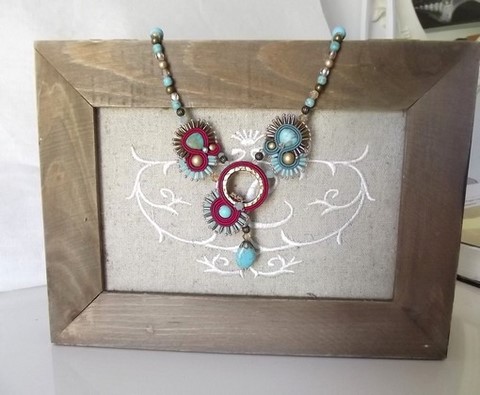 Necklace "RIVIERA" Swarovki, semi-precious, gold-plated.
Materials used : semi-precious, swarovski crystal, soutache.

This necklace is worked in passementerie.
The central embroidery is made with a hammered metal circle. On the side a pearl in magnesite and its spikes in buggles bronze and turquoise. On the side of the Swarovski crystal pearls "pacific opal and ligth topaz". The pendulum is a succession of Swarovski beads, round bronze and a drop in blue magnesite.
On each side of the central embroidery reinforced turquoise drops worked the same way as the buckles. The set is worked with 2 mm pink fuchsia and turquoise.
The neck strap is made of bronze beads, blue magnesite, Swarovski crystal and bohemian.

The clasp and chain are gold-plated
The lining is in old pink leather.

Neck strap : classic (38-40 cm).
Width : 6,5 cm.
Length : 5.5 cm for the center piece.
Weight : 17 grs (without packaging).

Handmade craftsmanship in passementerie.