Bohemian Bracelet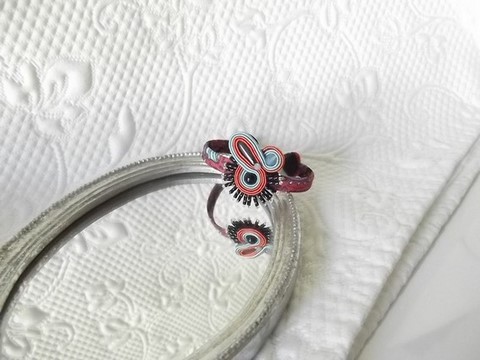 Bracelet Bohemian. Bohemian crystal, Swarovski crystal.
Materials used : braid, crystal.

Handmade bracelet handmade by me. The base is made with a round pearl crystal Swarovski Pacific Opal color, a black Bohemian crystal pearl and two black daggers. Basically daggers are tops Swarovski crystal pacific opal and Lila shadow. The square is a jet black pearl tila. The tower is made with a handful 6mm fancy cord and printed for the clasp arabesques are worked with turquoise braid ribbons and Terracotta to as the center of the bracelet.
The clasp is silver plated and the hanging rings.
Black lambskin lining.

Length : approx 15 cm adjustable and possibility of adding a few more rings to enlarge.
Width : 3 cm at widest.
Weight : 6 grams.

Handcrafted handmade trimmings.