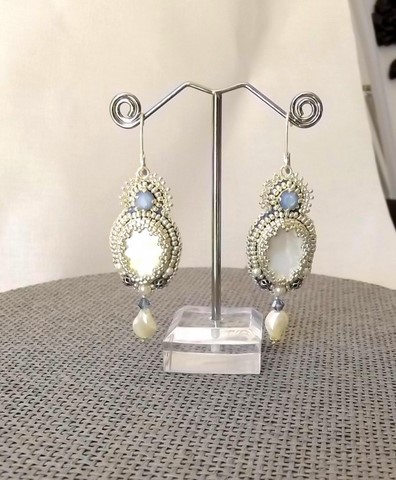 Earrings "TEXANE" silver 925 thousandths, mother-of-pearl, Swarovski.
Materials used : silver, mother of pearl, Swarovski.

Loops worked with the technique Amerindienne.
The loops are composed of a central cabochon in natural mother-of-pearl (form of drop).
On top a Swarovski crystal of 6mm "opal blue".
On the bottom of Swarovski mother-of-pearl as well as filigree beads in aged silver.
The tassel on the bottom is composed of a blue denim top and a twisted Swarovski mother-of-pearl.
The whole is embroidered with galvanized beads.
The lining is light blue in color.
The sleeper and its ring are in silver 925 m.

Length : 7 cm with the buckle.
Width : about 2.3 cm wide.
Weight : 11 grs (without packaging).

Handmade work, handcrafted needlework. These loops are lightweight.