"gazelle" Necklace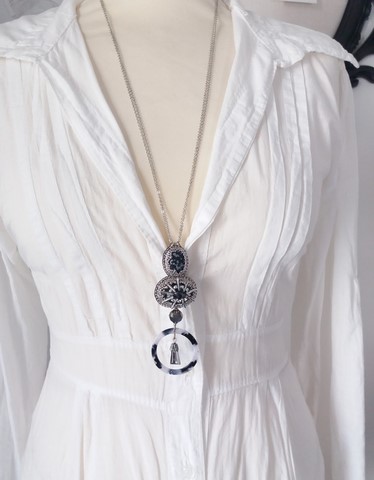 "Gazelle" long necklace Bohemian crystal and Swarovski, rhodium plated.
Materials used : bohemian crystal, rhodium and semi-precious stone.

Handmade necklace handmade by me with the technique of Native American embroidery.

Snow Obsidian composed of 2 sizes, silver Bohemian crystal, pearls of czechmates "crescent silver" range and a round pendant in cellulose acetate "tortoiseshell" with its crystal drop and its big round pearl in Swarovski.
The embroidery beads are in palladium-plated
The double chain is in rhodium and its clasp in silver plated.
The lining is black suede.

Width : about 3.5 cm.
Length : about 48 cm.
Weight : 25 grs.

Artisanal handmade bead embroidery.