Bracelet "Hors du temps"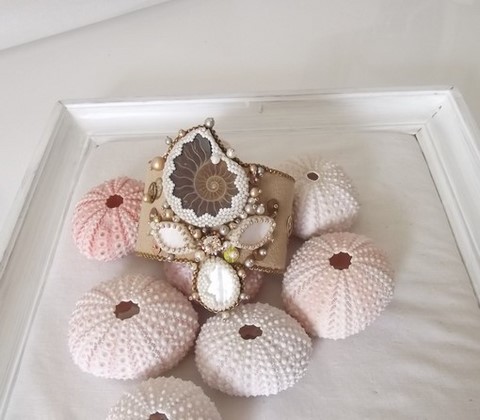 "Hors du Temps" cuff bracelet, mother of pearl, Swarovski, metal.
Materials used: Amonite, mother-of-pearl, Swarovski.
Handmade bracelet made by hand.
Embroidery work on native american brass support covered with embroidery on ultra-suedine camel. The amonite is set with pearl glass beads and its finish is star-shaped. Below the latter is a Swarovski crystal mounted on set in smoke topaz tones. On the bottom of the cabochon a beautiful natural mother-of-pearl cream-shaped drop and on each side of the crystal other natural mother-of-pearl but shaped calisson. The set is set with the same pearl glass beads.
To complete the creation of this cuff, many Swarovski nacre pearls in different sizes and in the tones of "pearl, platinium, pearl gold" as well as the bohemian crystal "california gold rush and gold bronze" are embroidered around pearl nacres And ammonite. I named it "out of time" because in addition to all the pearls are found on the suedine of the little clockworks and mixed with a fossil that has gone through the years to form. This seemed obvious.
The whole is worked on suedine camel recto and verso.

Length : adjustable cuff as cuff but base about 15.5 cm.
Width : approx. 7.5 cm at the widest point of the embroidery.
Weight : 64 grs without packaging.
Handmade craftsmanship.