Maya Cuff Bracelet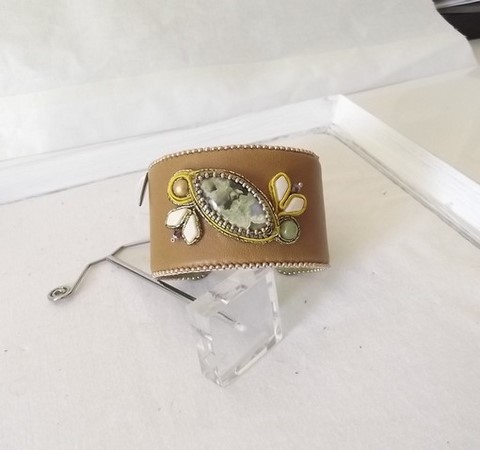 Swarovski "MAYA" cuff bracelet, semi-precious.
Materials used : Swarovski and semi-precious.

Handmade bracelet made by me.
Trimmings
In the center, an Icelandic Rhyolite cabochon is set in Native American embroidery with green metallic pearls and soutache, and to the left or right is a green jade bead in Thai jade and a matte gold bead in the preciosa range.
Kite Beads beads are on the top and bottom to form petals and in their center a round pearl from Swarovski smoke topaz.
The set is worked with soutache in 2 colors, gold and mustard.
Everything is embroidered on light brown leather and placed on a brass cuff.
The lining is green ultra-suedin

Length : 16 cm (rigid but adjustable cuff style)
Width : 4 cm approx.
Weight : 52 grs without packaging

Handmade craftsmanship.