"Eléphanteau" cuff bracelet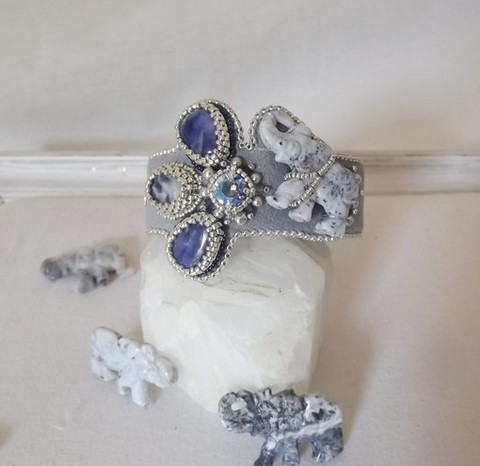 Swarovski "ELEPHANTEAU" cuff bracelet, semi-precious stone.
Materials used: Swarovski and semi-precious.

Handmade bracelet made by me.
Work in Native American embroidery made with a center light Swarovski "Sapphire Shimmer" cabochon set with galvanized glass beads and surrounded by Swarovski crystals "denim", bohemian crystals "light blue" and small silver drops galvanized in miyuki.
On the left, the petals are Sodalite cabochons worked with "iris blue" and "galvanized" metallic glass beads.
On the right is a small Sodalite elephant from Ontario (Canada) in shades of gray / blue with some pink and white spots.
Everything is worked on a brass support of 16 cm adjustable and with an ultra suede "gray" for the top and for the inner lining of the color "blue".

Length: 16 cm (style rigid but adjustable cuff).
Width: about 5 cm at the widest point of the central embroidery.
Weight: 41 grs without packaging.

Handmade craftsmanship.