"Eclats de corail" cuff bracelet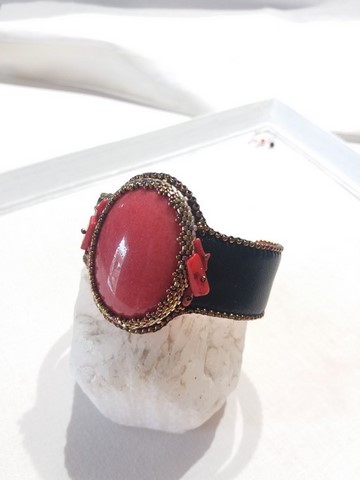 Cuff bracelet "ECLAT DE CORAIL" Swarovski, semi-precious stone.
Materials used : Swarovski and semi-precious.

Handmade bracelet made by me.
Work in Native American embroidery made on leather with a center cabochon semi precious coral red stone set with glass beads "iridescent gold metal". On the sides of small coral shards and small bicone Swarovski crystals hematite and beads round coral. The lining is ultra-suede red to contrast with the black leather of the basic embroidery.
Everything is worked on a brass support of 16 cm adjustable.

Length : 16 cm (style rigid but adjustable cuff).
Width : about 5 cm at the widest point of the central embroidery.
Weight : 50 grs without packaging.

Handmade craftsmanship.