"Romantic Rock" cuff bracelet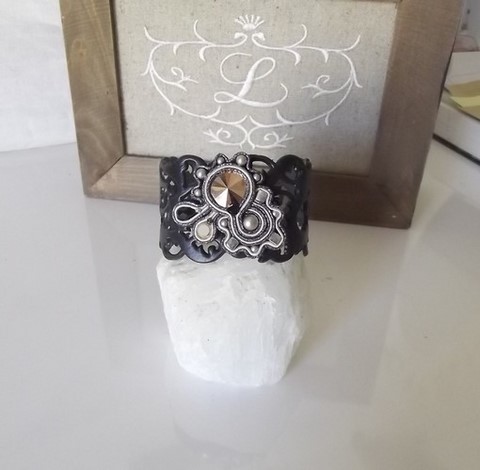 Bracelet "Romantic Rock" Leather, swarovski.
Materials used : leather, Swarovski and soutache.

Handmade bracelet made by hand.
Trimming work.
In the center a Swarovski cabochon of 14 mm Rose Gold with on the bottom the arabesque which is formed by a mother-of-pearl Swarovski "platinum" of 8mm. Swarovski's hematite spinning top between the two.
The fancy that surrounds the first work in bracket is a mixture of Swarovski "platinum" nacres of 3mm and galvanized cubes of the miuyki range. A hematite olive finishes the work on the side.
On the top of the cabochon three petals formed with bohemian crystal drops faceted in "jet" color and on the side the stems that come out are made with small crystal cabochons faceted cream color.
The whole is embroidered with silver black and beige braid.
The whole work of embroidery in braid is initially lined with black leather before being sewn on a magnificent support of leather bracelet all worked.
The assembly closes with a push button.

Length : 19.8 cm.
Width : approx. 4.5 cm at the widest of the central embroidery.
Weight : 9.5 grs without packaging.

Handmade craftsmanship.