brooch "Tilleul"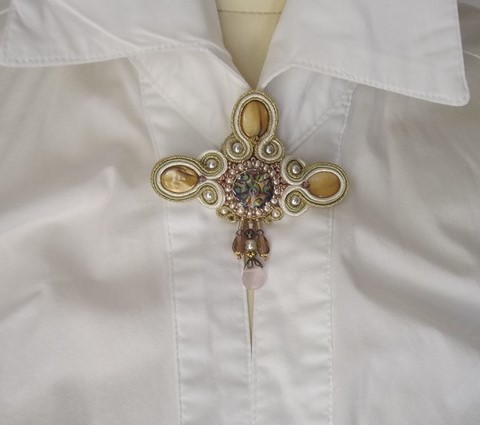 Brooch "TILLEUL" Bohemian crystal, Swarovski, soutache.
Materials used: nacres, soutache, bohemian crystal and Swarovski.

Brooch embroidered with needle made with the technique of passementerie.
In the center a Swarovski crystal rivoli of 14 mm color Peacock in its set. All around 3 mm swarovski cream nacres are embroidered.
Each of the three nacres that make up the rest of the brooch are made with gold, linden and beige braid. For the top between the two bohemian pearl crystal pearls is a golden metal bead and for the other two are small Swarovski Lila Shadow beads.
On the bottom of the Swarovki cabochon are arabesques also made of Swarovski mother-of-pearl and the tassels are made in the following way: the central Swarovski ligth topaz crystal followed by a filigree bead in bronze then a nacre in bohemian crystal, a gilded metal bead and a faceted glass drop surmounted by a bronze flower cap.
For those on the right and left, a buggles (glass bead) gilded followed by a pearl of Swarovski Lila shadow of a drop in bohemian crystal faceted brown and its cap gold plated.
Secure pin clasp. Lining in golden ultra suede.

Length : about 7 cm with the drop.
Width : about 7 cm wide.
Weight : 11 grs (without packaging).

Creation artisanale. Handmade embroidery.