Brooch Boléro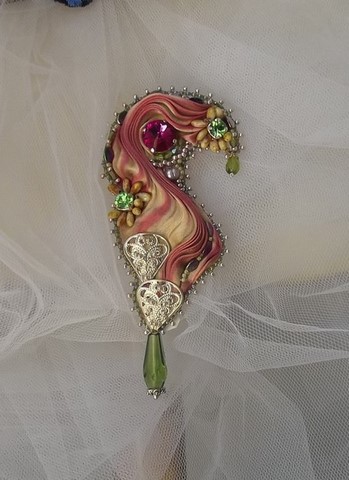 Pin 'Bolero' silk, Swarovski crystal.
Materials used : shinori ribbon, Swarovski crystal and Bohemia.


Pin embroidered needlework made with a silk ribbon called "shibori silk ribbon." The flowers are composed of Swarovski crystal peridot and yellow rizos. The big pink cabochon is a crystal rivoli 12mm peridot surrounded by crystal bohemian and a beautiful freshwater pearl purple. Two prints on the bottom and beads embroidered by location on the left and right sides of Pinch beads color "magic orchid". The large drops and small size are drops of olivine crystal bohemia.
Secure pin clasp laid lengthwise. Ultra suede beige lining.

Weight : 14 grams.
Length : 11 cm with gout.
Width : approximately 5 cm wider.

Creation. Unique piece. Handmade embroidery work.